Sale 284
Lot 28

1916 Standing Liberty Quarter Dollar, About Uncirculated. Rare in any condition, this coin will be a highlight of any collection.
Estimate 9,000 - 12,000


Realized $17,600
---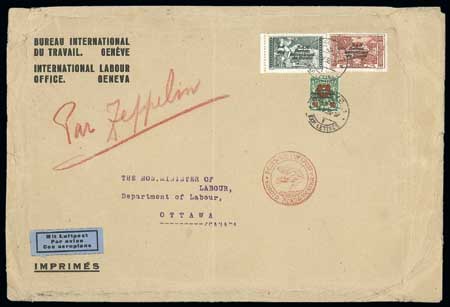 Lot 2515


Switzerland 1936 1st North America Flight, May 6-14 (Michel 12a), large commercial cover from the International Labour Office/Bureau du Travail (BIT) at Geneva flown by LZ 129 Hindenburg to New York, addressed to the Hon. Minister of Labour, Department of Labour at Ottawa, Canada. Postage tied by Geneva 5.5.36, red Zeppelin flight cachet and on the back side New York May 9, 1936 arrival postmark. The cover is franked with three official League of Nations overprinted stamps "SDN Bureau International du Travail" including the rare 10fr green (3O26), which was normally only used on parcels. The 13.90fr postage matched the 375 grams Zeppelin printed matter rate to North America; edge faults caused by thick contents, a Very Fine and unique item, underpriced by Michel at €5,000. Sieger 406 C.
Estimate 7,500 - 10,000

This is the only recorded piece from the BIT/SDN on this first flight of the LZ 129 Hindenburg to North America — actually the only known piece from the BIT/SDN on any Hindenburg flight. The few other BIT/SDN pieces known were all flown by the Graf Zeppelin.


Unsold
---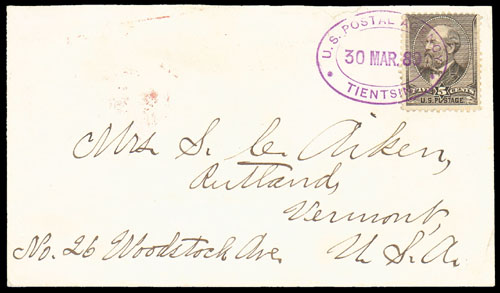 Lot 1520


1889 (Mar. 30) Tientsin to Rutland, Vt., bold strike of purple "U.S. Postal Agency * Tientsin * 30 Mar. 89" oval datestamp on cover from the Aiken correspondence bearing 5¢ yellow brown (205) tied by datestamp, reverse with bold red "San Francisco Paid All Apr 30" transit c.d.s. and Rutland, Vt. May 7 receiver, mended nick at top edge, fresh and Very Fine usage.
Estimate 7,500 - 10,000

AN EXTREMELY RARE U.S. POSTAL AGENCY MARKING WITH ONLY A FEW RECORDED USED AS THE ORIGIN POSTMARK.

Provenance: Knapp

The Tientsin ovalwas used as a transit marking on covers passing through the agency. Of the dozen or so examples known, only a few show the oval datestamp as an origin postmark at Tientsin.


Realized $8,800
---
Lot 31

1927-S Standing Liberty Quarter Dollar, Choice Brilliant Uncirculated or slightly better.
Estimate 5,000 - 6,000


Realized $66,000
---
Lot 1927


Hawaii Envelope, 1893, 10¢ black, blue inside (U14), cancelled by four-ring target with a 50¢ red (48), registered to Soldin, Germany, magenta "Honolulu, Hawaii, Jan 5, 1894" c.d.s., "Registered, Hawaii P.O." in large "R", and "A.R." handstamps, return address of A. Lemke on reverse along with San Francisco and New York transit c.d.s.s and Soldin receiver, a Very Fine and choice used example of this rare envelope.
Estimate 5,000 - 7,500

THIS IS THE EARLIEST DOCUMENTED USAGE OF THE 10¢ PROVISIONAL BLUE LINED ENTIRE.

THE KEY ITEM TO A USED POSTAL STATIONERY COLLECTION OF HAWAII.

Used examples were not found in the Advertiser or Pietsch sales.


Realized $12,100
---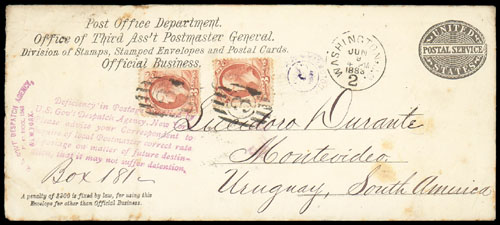 Lot 1117


War Dept., 1873, 3¢ rose (O85), two singles tied on legal size Postal Service (UO14) entire to Montevideo, Uruguay, Washington, D.C. Jun 9, 1883 origin c.d.s., marked "Due 5" in pencil (beneath stamps), purple "U.S. Govt' Despatch Agency / P.O. Box 1243 / New York" handstamp, stamps added by the agency, additional purple "Deficiency in Postage supplied by / U.S. Gov't Desptatch Agency, New York" arched handstamp tying left stamp, letter entered the foreign mail section in New York where stamps cancelled by N.Y. simplex "3" ovals, "Port-au-Prince, Haiti 19 Juin 83" backstamp, blue Columbian transit, "Valparaiso, Chile 30 Jul 83" backstamp, and "Montevideo 21 Agost 83" receiving backstamp, Post Office Department corner card for the Division of Stamps, Stamped Envelopes and Postal Cards; minor cover foxing and edgewear, left stamp with s.e., Very Fine usage.
Estimate 4,000 - 5,000

THE ONLY RECORDED WAR DEPARTMENT USAGE TO URUGUAY, AND THE ONLY WITH WAR DEPARTMENT STAMPS APPLIED BY THE DESPATCH AGENT IN NEW YORK.

The United States Government Despatch Agency in New York was supplied with a stock of official stamps to aid in the handling of deficiently franked mail matter. The Postal Service envelopes were imprinted with a penalty frank that was only valid on official Post Office business foreign mail to the recipient country's postal department. Official stamps were required on foreign mailings to private citizens.


Realized $16,500
---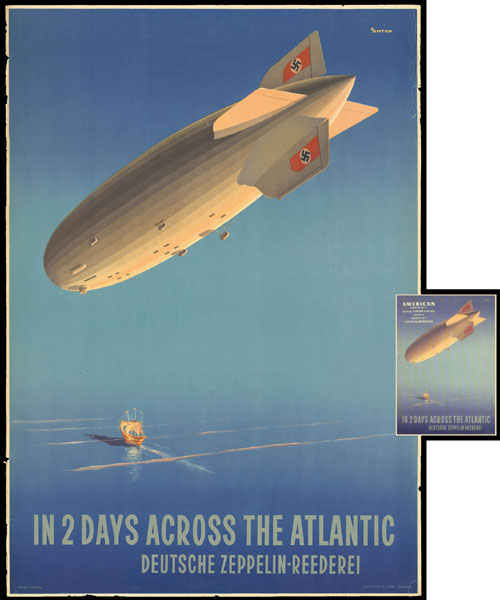 Lot 2430


United States Hindenburg poster, large multicolor poster, 23¼" x 33¼", showing the Hindenburg above a sailing ship on the open sea, without the intended American Airlines overprint (see below).small insignificant edge tears, Very Fine and believed to be unique.
Estimate 5,000 - 7,500

This poster was printed in Germany with the entire printing shipped to the U.S. office of the Deutsche Zeppelin-Reederei [German Zeppelin Shipping Co.]. It was to be used by American Airlines to advertise their connecting passenger service at Lakehurst. A white overprint in the upper left corner read "American Airlines Inc., Exclusive Flagship connecting service at Lakehurst, N.J. with Airship Hindenburg". It was never distributed in unoverprinted form. The unoverprinted poster offered here is said to have been removed by F.W. von Meister, the U.S. representative of the DZR, before the posters were sent by him for overprinting. It is purported to have been displayed in his New York office.


Realized $4,125
---

Lot 104

1936 proof set, each coin shows some degree of toning, most are minor, the cent has golden peripheral toning.
Estimate 4,500 - 5,500


Realized $12,100
---
Lot 649

o

1916, 2¢ carmine, type II, coil (491), joint line pair. Very well centered for this, rich distinctive color. Light duplex cancel. Trifling small corner creases at top right are invisible from the front. Otherwise Very Fine and a handsome example of this rare used line pair.
Scott $12,000

Expertization: 1999 P.F. Certificate.


Realized $3,575
---
Lot 1403

o

1851, 1¢ blue, type III (8), clear to enormous margins, socked-on-the-nose "Litchfield, Ct., Sep 21 1857" c.d.s., the earliest documented use of the 1¢ type III. Fresh and Extremely Fine. A spectacular EDU.
Scott $3,250 ++

Expertization: 1988 P.F. Certificate.


Realized $4,950
---