Sale 311
Lot 2015

(
)

1851, 12d black, laid paper (3), large margins all around with a lovely, delicate impression, unused, exceptionally fresh, Extremely Fine and choice. Unitrade C$120,000 ($90,000).
Scott $55,000

ONE OF THE FINEST UNUSED EXAMPLES OF THIS CLASSIC PHILATELIC RARITY EXTANT.

Expertization: 2006 P.F. Certificate.

Provenance: Carrington, Dagenais

The Twelve Pence Black had an interesting history. Like all other pence issues of Canada it was engraved and printed by Rawdon, Wright, Hatch & Edson of New York. A total of 51,000 stamps and a proof imprint sheet were shipped to Canadian postal authorities on May 14, 1851. However, the stamp proved to be unpopular with the public and only saw limited distribution, with a total of only 1,510 stamps being sent to just 18 Post Offices. Of those, 60 were returned by the Ingersoll Post Office, leaving a mere 1,450 stamps sold. The remaining 49,490 stamps were destroyed on 1 May 1857.

There is some speculation as to why this stamp was inscribed "Twelve Pence" rather than the customary "One Shilling", especially since the Colonies of New Brunswick and Nova Scotia both used one shilling stamps. A possible explanation is that at the time the Canadian pound was depreciated relative to its British equivalent and the other provinces also had their own exchange rates. The result was confusion among the public and postal officials as to exactly what a "shilling" was worth. Expressing the value as "Twelve Pence" may have been an effort to alleviate this confusion.

The limited distribution and lack of acceptance by the consumer, who seems to have preferred to use a pair of the 6d Consort, has resulted in the 12d black being the most sought-after rarity in Canadian philately as well as one of the most coveted of all classic stamps.


Realized $103,500
---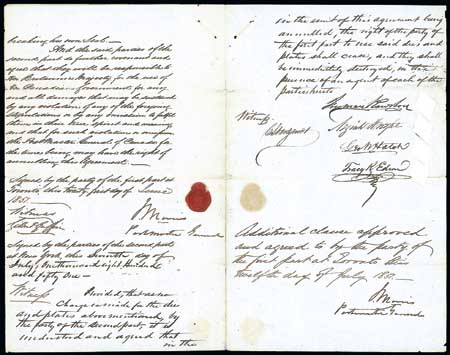 Lot 2001


Contract to print Canada's first postage stamps, seven-page handwritten contract between the Province of Canada, represented by the Provincial Post Master General, James Morris, and the New York engraving firm of Rawdon, Wright, Hatch and Edson. The contract spells out which stamps are to be printed: "three (3d.) pence, six (6d.) pence and shilling (1/-)" and that the stamps should be "on suitable paper of the best quality, prepared for use with gum, at the rate of Twenty Cents per thousand stamps". The contract also stipulates that the dies and plates will remain "the exclusive property of Her Britannic Majesty for the use of Her Provincial Government of Canada" and details security arrangements for said dies and plates when not in use.

Signed and sealed by Post Master General Morris on June 21, 1851; signed and sealed by Freeman Rawdon, Neziah Wright, George W. Hatch and Tracy R. Edson on July 7, after adding a clause providing for destruction of the dies and plates "in the event of this agreement being annulled"; and finally, signed again by Morris on July 12, agreeing to the destruction clause.
Estimate 30,000 - 40,000

A FABULOUS DOCUMENT OF INCALCULABLE HISTORICAL IMPORTANCE.

Rawdon, Wright, Hatch and Edson were also the printers of the first issue of United States postage stamps, the 5¢ and 10¢ of 1847. The contract for that issue, however, has never been found, making this one nearly as important to collectors of the United States 1847 Issue as it is to the collectors of Canada's first stamps.


Unsold
---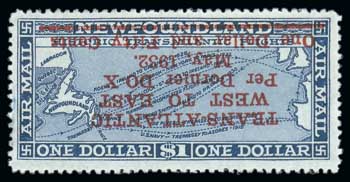 Lot 2322


Airmail, 1932, $1.50 on $1 Dornier DO-X Flight, inverted surcharge (C12a), deep bright color, well centered, original gum, never hinged. Very Fine and a wonderful post office fresh example. Unitrade C$50,000 ($37,500).
Scott $21,000

ONLY 20 EXAMPLES KNOWN WITH SURCHARGE INVERTED, OF WHICH FEWER THAN HALF ARE BELIEVED TO BE NEVER HINGED.

Expertization: 1992 B.P.A. Certificate.

Provenance: "Malibu"


Realized $25,300
---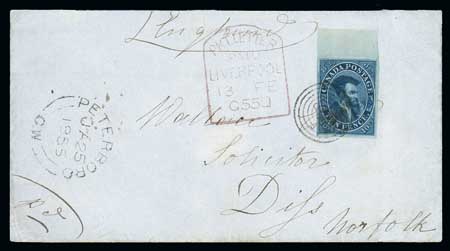 Lot 2046


1855, 10d blue (7), top sheet margin single, sharp, highly detailed early impression and exquisite color, large to huge margins all round, precisely tied by perfectly struck target cancellation which leaves profile clear, on 1855 (Jan. 25) neat envelope to Norfolk, England, "Peterboro/C.W." double arc origin datestamp and "Pkt. Letter/Paid/Liverpool" tombstone datestamp of "13 FE G55" in red, backstamped with accompanying c.d.s.; minor edge restoration, wax seal removed from flap, Extremely Fine and a wonderful cover. Unitrade 7.
Estimate 15,000 - 20,000

AN EXTRAORDINARY FIRST MONTH USE AND A VERITABLE GEM. IRREFUTABLY AMONG THE FINEST, IF NOT THE FINEST, EXAMPLE OF THIS STAMP ON COVER.

Expertization: 1973 B.P.A. Certificate.

Provenance: Beckeman


Realized $27,600
---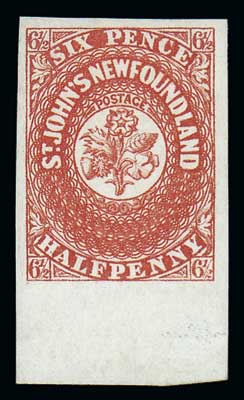 Lot 2299


1857, 6½d scarlet vermilion (7), bottom sheet margin single with large margins and brilliant color and full original gum. Wonderfully fresh and Extremely Fine.
Scott $3,250

A GEM EXAMPLE IN VIBRANT COLOR AND BRIGHT, WHITE PAPER.

Expertization: signed Bloch.


Realized $6,900
---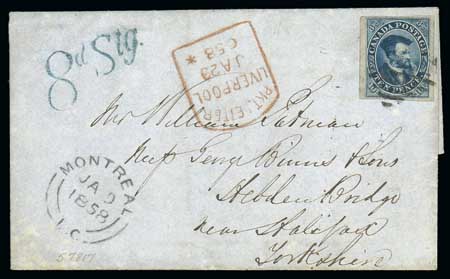 Lot 2047


1855, 10d blue, strong re-entry (7 var.), shows major doubling upward of all letters "CANADA PO" as well as of the top frameline and the inner oval, also what appears to be a large plate scratch between the "O" and "S" of "POSTAGE" extending from above the label diagonally down to the left almost to Cartier's cap, ample to enormous margins, tied by square grid cancel on 1858 folded cover to Yorkshire, England, Montreal, split ring postmark, blue "8d Stg." handstamp and red "Pkt. Letter, Liverpool" tombstone, two English backstamps, Very Fine.
Estimate 5,000 - 7,500

AN OUTSTANDING USAGE OF THIS UNPLATED RE-ENTRY, THE PLATE SCRATCH BEING PREVIOUSLY UNRECORDED AND NO DOUBT UNIQUE ON COVER.

Expertization: 1964 R.P.S. Certificate.


Realized $6,613
---
Lot 2302


1860, 2d orange (11), bottom margin block of four, positions 13-14/18-19, radiant color, large to huge margins. Original gum, lightly hinged. Extremely Fine and choice block. Unitrade C$2,000 ($1,500).
Scott $1,300 as singles

A MAGNIFICENT AND RARE BLOCK.

Expertization: 2006 V.G. Greene Certificate.

Provenance: Dale-Lichtenstein, Pratt as block of 16


Realized $6,038
---
Lot 2033


1851, 3d red, laid paper (1), horizontal pair, rich color, large margins on three sides, clear at right, tied by target cancellations on 1852 (Jan. 1) envelope from London, U.C. to Buffalo, N.Y., black framed curved "Canada" and red "Canada/Paid 10Cts" exchange handstamps, Hamilton (1.2) backstamp; Very Fine and scarce cross border usage.
Estimate 5,000 - 7,500

Expertization: 1969 R.P.S. and 2004 V.G. Greene Certificates.

Provenance: Dale-Lichtenstein


Unsold
---
Lot 2279

o

1851, 1s bright red violet (3), huge margins, bright color and neat, perfectly struck square grid of small dots cancel. A fresh and choice Extremely Fine gem. Unitrade C$8,000 ($6,000).
Scott $4,000

Expertization: 2002 Greene Certificate.


Realized $5,175
---
Lot 2345

o

1851, 1sh deep violet (7), four enormous margins, deep, dark color and neat oval grid cancel. Extremely Fine gem. Unitrade C$8,000 ($6,000).
Scott $6,000

Expertization: three generations of Diena Certificates, 1962, 1981 and 2004.


Realized $6,325
---