Sale 312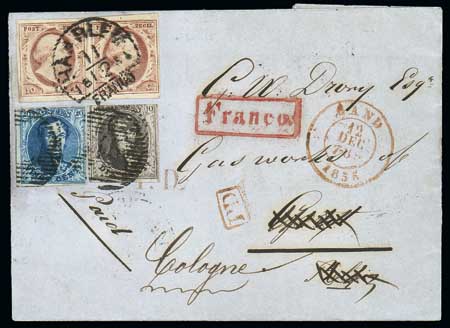 Lot 38


Netherlands, 1852, 10¢ dark red plate II, horizontal pair, positions 64-65, large to ample margins, vertical scissors cut in margin at top between stamps, tied by "Haarlem" halfrondstempel on 1855 folded letter sheet to Gent (12.12) redirected to Cologne (13.12) with Belgium 1851 10¢ and 15¢, both touched or cut into at top, applied for forwarding and tied "45", "Gand" c.d.s. and framed "Franco" handstamp both in red, "Aus Belgien/per Aachen" c.d.s. in red on reverse; the 20¢ rate to Belgium representing 1.89 grams of silver and 30¢ rate for forwarding being 1.35 grams of silver. Very Fine and splendid redirected cover bearing the issues of two different countries. NVPH 2e, Officiel 6, 7.
Estimate 30,000 - 40,000

ACCORDING TO OUR RECORDS, THIS IS ONE OF ONLY TWO COVERS BEARING THE FIRST ISSUE OF NETHERLANDS FORWARDED TO ANOTHER COUNTRY IN CONTINENTAL EUROPE WITH FOREIGN STAMPS APPLIED.

Expertization: 1984 Moeijes and 1993 Dr. Louis Certificate.

Provenance: Mulder-Canter


Realized $80,500
---
Lot 56


Belgium, 1849, 10c grey brown, eight singles, fresh color and excellent impression, varying margins from large to just in, tied by bureau de perception "25" on 1850 (19 July) folded letter to Mons (20.7), showing "Charleroi" c.d.s. and "Après le départ" straightline handstamp both in red adjacent, Very Fine and a wonderful 80 centimes rate franking for a letter weighting 20-60 grams for a distance over 30 kilometers. The largest recorded franking of the first issue 10c on cover and one of the most outstanding first issue covers in existence. COB 1a.
Estimate 40,000 - 50,000

Expertization: 1980 Balasse Certificate.

Provenance: Meyer


Realized $77,625
---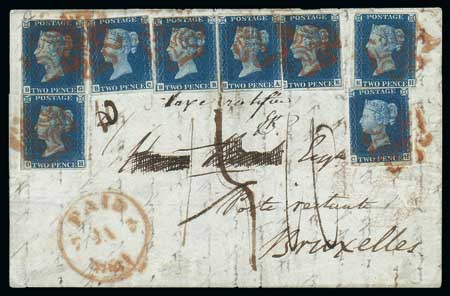 Lot 6


Great Britain, 1840, 2d blue plate II, eight examples - BA, BB, BC, BG, CE, CH, DH and EH— fresh deep bright color, generally with large margins, two are in and some others touched in places, tied by Maltese Cross in red on 1841 (7 Jan.) folded letter from London to Brussels (9.9), with "P Angleterre à Ostende" c.d.s. (8.1) on reverse, rated "15" crossed out and "10" applied, some creasing and small defects. Fine and magnificent cover with rare line-engraved franking to a European destination. S.G. Spec. DS8f.
Estimate 40,000 - 50,000

Expertization: 1996 B.P.A. Certificate.

Provenance: "Daisy"

The 1s4d prepaid rate for ¼ ounce (7.56 grams of silver equivalent) to Belgium where the letter was rated double, then reduced from "2" times to the band of up to 7.5-10 grams in weight. The manuscript "10" indicates that the charge was reduced from "15" to "10" décimes (4.56 grams of silver).

One of the most interesting Great Britain line-engraved covers to a European destination, since it demonstrates how the tariff in Belgium operated at successive weight steps.


Realized $63,250
---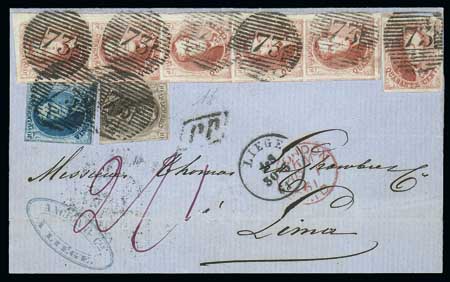 Lot 68


Belgium, 1858, 10c brown, 20c blue and 40c red, vertical strip of five from the top right corner of the sheet and single, the strip (certainly the finest known) with phenomenal margins showing portions of six adjoining stamps, the 10c and 20c with varying margins, tied by bureau de direction "73" on 1861 (30 Mar.) folded letter sheet from Liége to Lima, Peru, framed "PP", rated "2/1". The rarest and most spectacular tri-color (the entire issue) franking of the imperforate Medallions in existence. A fabulous exhibition item. COB 10A, 11A, 12A.
Estimate 35,000 - 40,000

Expertization: 2000 Kaiser Certificate.

Provenance: Scheerlinck, van Grunderbeek, Meyer

The 2 francs 70 centimes in postage stamps were for the 15 grams single letter rate via London (1.4) for Royal Mail Steam Packet Company ship "La Plata" which sailed from Southampton on 2 April for St. Thomas, then on 17 April by RMSP ship "Tamar" to Colon arriving on 23 April for transit across the Panama Isthmus and on local shipping lines to Lima.


Realized $63,250
---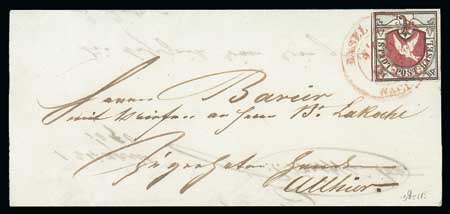 Lot 99


Switzerland, 1845, 2½rp black, blue and carmine Basle Dove, second printing, beautiful colors, sharp highly detailed embossing, enormous "white" margins all round showing portion of adjoining stamp, tied by "Basel/Nachmittag" double-ring datestamp in red on 1850 (24 Apr.) local folded letter sheet, backstamped with similar c.d.s., the stamp which has been lightly applied to the cover still retains its original gum and there is a piece of backing paper on the inside of the cover behind the stamp for reinforcement which does not affect the stamp whatsoever and is, therefore, of no consequence. An Extremely Fine example of this famous classic stamp on cover and among the finest extant. SBK 8.
Estimate 30,000 - 35,000

Expertization: 1998 von der Weid Certificate.


Realized $37,375
---
Lot 95


Switzerland, 1843, 5c black on yellow green Double Geneva right half, top tablet with the word "Cantonal" cut off as was intended for use within the city, centrally cancelled by rosette in red on "petite" 1845 (30 July) local envelope, matching "Genève" c.d.s., Extremely Fine and extraordinary cover, being an exceptionally rare usage of this classic. SBK 4R.
Estimate 15,000 - 20,000

Expertization: 1968 Nussbaum, 1980 Rellstab and 2001 B.P.B. Certificates.

Provenance: Alma Lee

The right half of the Double Geneva sold at 4 centimes for use within the city. The sender cut off the top portion which had the reference to "Cantonal", as was intended, in order to be certain that the letter would not be assessed at the Cantonal rate

Only four or five of these proper "City" usages are believed known.


Realized $29,900
---
Lot 79


France, 1850, 40c bright orange, horizontal strip of four from the left of the sheet, beautiful deep vivid color, huge to ample margins showing portion of adjoining stamp at right, tied by grill on 1850 (18 Dec.) folded letter sheet from Lyon to the Consul of the French Republic in Nice, Sardinia (arrival datestamp) via Antibes (19.10), the 1fr 60 rate for 7.5-10 grams, right stamp crossed by vertical filing fold, nevertheless an Extremely Fine and magnificent cover, an exceptionally rare franking to this destination. Yvert 5a.
Estimate 15,000 - 20,000

Expertization: signed Calves.

This high rate applied to mail taken more than 10 kilometers beyond the French-Sardinian frontier across the River Var.


Realized $28,750
---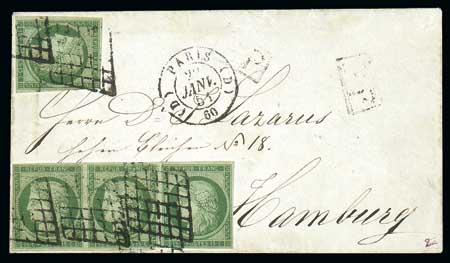 Lot 74


France, 1850, 15c green on greenish, horizontal strip of three in a deep shade, large to ample margins on three sides, second and third stamps just touched or in at one corner from scissors separation and single (just in at upper right), tied by grill on 1851 (28 or 29 Jan.) envelope from Paris to Hamburg (31.1), showing framed "PP" adjacent, the 60 centimes single letter rate for up to 7.5 grams, Very Fine and an exceptionally rare franking composed of only the 15c denomination. Maury 2.
Estimate 10,000 - 12,000

There are believed to be only two other covers to Hamburg with a four times 15c franking. One bears a strip of four and the other is defective.

This rate using the 15 centimes denomination issued on 29 July 1850 lasted until 31 March 1862, after which the rate was reduced to 50 centimes.


Realized $24,150
---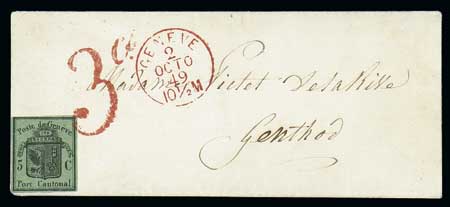 Lot 97


Switzerland, 1848, 5c black on dark green Large Eagle, excellent impression, large to ample margins, tied by large handstruck "3cs" in red on 1849 (2 Oct.) "petite" envelope to Genthod, stamp (lifted for examination and hinged back) has a tiny inconsequential surface wrinkle at top, Very Fine and remarkable. SBK 7.
Estimate 15,000 - 20,000

Expertization: 1948 Fulpius and 1987 Rellstab Certificates.

Provenance: Landau

The 5 centimes Large Eagle was sold at 4 centimes for use within the city. On 1 October 1849, Federal Law fixed the Rayon I rate from the city to a rural commune within the Canton at 5 rappen or 7.3 centimes rounded down by the Geneva post office to 7 centimes, hence the "3 cs." handstamp for the additional cash payment.

One of the finest examples of this usage and the second day of use for this procedure which only applied for fourteen days.


Realized $24,150
---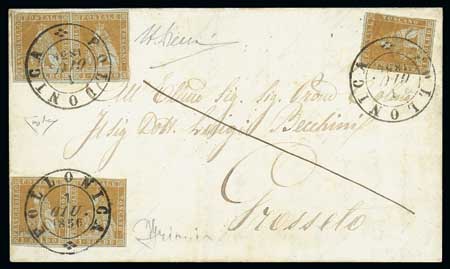 Lot 133


Tuscany, 1851-52, 1s bister orange on greyish blue, horizontal pairs (2) and singles, varying margins, generally large to clear, dazzling color being deep intense shade highlighted by the bright bluish color of the paper, crisply tied by "Follonica" double-ring datestamp on 1856 (1 June) folded letter to Grosseto (2.6), according to the accompanying certificate the two pairs are perfect while the single has small scissors cut and is in at right, the 5 soldi or 3 crazie rate for over 12 denari (½ ounce). Very Fine and a wonderful franking of great rarity and aesthetic appeal. Sassone 2d.
Estimate 20,000 - 25,000

Expertization: signed A. Diena and 1988 E. Diena Certificate.


Realized $23,000
---