Sale 320
Lot 1148


1900, 3pf-80pf Tientsin provisional handstamps (17-23), the seven issued values plus the unissued 40pf, 2mk and 3mk, all mounted inside the flyleaf of a book entitled Unsere Marine in China [Our Navy in China] by Alfred von Müller. The 2mk is overprinted horizontally rather than diagonally, all stamps are fresh and well preserved and have been affixed to the page by their own gum (the 50pf, having come loose from the page, has been hinged back into place). A Very Fine and exceedingly rare presentation. Only the 40pf is priced by Michel, and that at €50,000 ($69,000). Michel 8-14, II-IV.
Estimate 300,000 - 400,000

BELIEVED TO BE ONE OF ONLY TWO SUCH BOOKS IN COLLECTORS' HANDS.

Expertization: The lower left corner of the page has been initialed "AF" by German Colonial expert Alfred Friedemann. In addition there are current certificates from Wolfgang Jakubek (2005) and Bernard Behr, Jean-François Brun, Experts & Consultants Limited of Hong Kong and Roger Calves (all 2006).


Unsold
---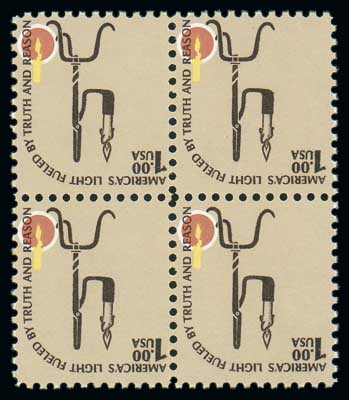 Lot 600


1979, $1 Lamp, brown (candle flame) inverted (1610c), a choice mint block of four, perfectly centered, original gum, never hinged, Extremely Fine.
Scott $90,000

Only a handful of blocks remain intact.


Unsold
---
Lot 603


1992, 29¢ N.Y. Stock Exchange, center inverted (2630c), top right margin block of four, top stamps with centers inverted, bottom stamps with centers omitted (2630b), original gum, never hinged, Extremely Fine.
Estimate 40,000 - 50,000

A RARE POSITION PIECE.

There are 56 examples of this invert recorded, 28 in each of the two panes of 40, the other 24 stamps having their centers omitted.


Unsold
---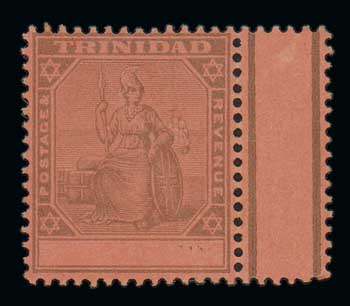 Lot 1362


1901, 1d black on red, value omitted (78a), single with right gutter selvage, bright color, original gum, lightly hinged; shows usual traces of of "Penny" ("ny"), as do the other two recorded examples;. Fresh and Fine. SG 127a £30,000 ($38,250).

ONE OF ONLY TWO RECORDED EXAMPLES AVAILABLE TO COLLECTORS, THIS BEING THE ONLY ONE WITH A GUTTER MARGIN.

Expertization: 1986 R.P.S. Certificate.

Also includes the original letter from Bright and Son, London to the Postmaster at San Fernando in 1905 asking for examples of this variety, and his reply. "Only 7 were sold four (4) of which were posted on letters and they were thoroughly inked over by Postal authorities consequently of no use. J.C. Lewis Postmaster". Of a single pane of 60, 51 stamps were sent back to London and destroyed. Only three mint examples are believed to have survived, one of which is in the Royal Collection. The third example was last sold in the Sir John Marriott sale and originally formed part of a pair (left stamp) with the example offered here. The above example shows the traces of "ny" of "Penny" just as the Marriott example shows a trace of the "y".


Realized $37,375
---

Lot 584

BK


1917, 2¢ rose, type I (499f), incredibly well centered, strong and intact perforations, with the rich powdery color of all genuine panes and full fresh original gum, very lightly hinged on two only. Extremely Fine.
Scott $28,000

A STUNNING 2¢ A.E.F. BOOKLET PANE OF OUTSTANDING CENTERING AND BEAUTY.

Expertization: 1997 P.F. Certificate.

There are approximately 20-25 surviving intact examples of this booklet pane rarity and few if any can match this pane's combination of centering and well preserved freshness. This is simply the best centered pane we have offered.


Realized $28,750
---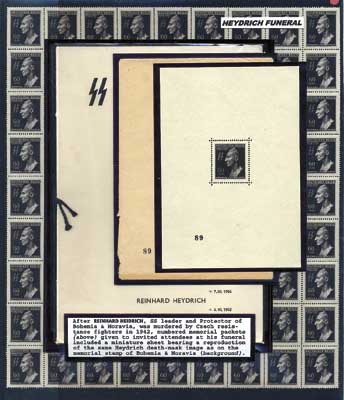 Lot 1072


1943 Heydrich Presentation sheet (Michel 131 footnote), the so-called "Heydrich Block" that was given out to officials attending the ceremonies honoring the first anniversary of Heydrich's assassination, full never hinged original gum, numbered "89" of 1,000 printed with matching numbered envelope, also including the presentation booklet containing a single and block of 4 of the issued stamp (and, of course, the large block of 90 used as a background for the page).
Michel €20,000 ($21,600)


Unsold
---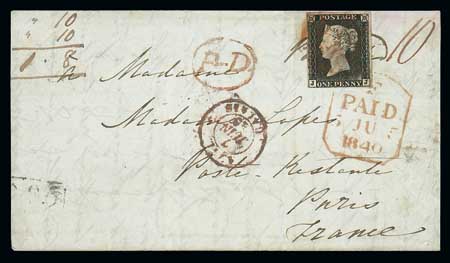 Lot 1340


1840, 1d black (1), position JJ, ample to large margins, sealed tear at top resulting from corner crease, tied by Maltese cross in red and additionally by London "F Paid 5 JU 5 1840" datestamp on large part 1840 folded letter (no side flaps) from Plymouth to Paris, France, red Plymouth postmark on backflap, oval "PD" handstamp in red, manuscript "10" plus "10" rating totaled to "1.8" (1 shilling, 8 pence) for paid to destination rate of the 10d Cross-Channel ship rate plus French 10d internal postage, Calais (6.7) entry c.d.s. in red; Very Fine and attractive. SG 2. S.G. Spec. AS1.
Estimate 20,000 - 30,000

ONE OF THE EARLIEST LETTERS TO FRANCE BEARING A POSTAGE STAMP.

Expertization: 1998 R.P.S. Certificate.

Provenance: J. H. Levitt, Dr. Pichai Buranasombati


Unsold
---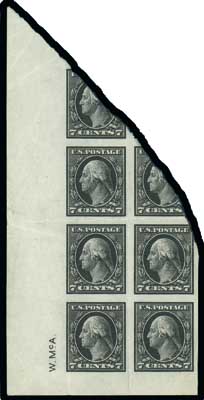 Lot 570

(
)


1914, 7¢ black (407), left corner irregular block of seven with siderographer's initials "W. McA." for William A. McAleer, intense color with a strong impression. Unused. Creases. Fine and unique.
Estimate 20,000 - 30,000

THIS IS THE ONLY RECORDED IMPERFORATE VARIETY ABOVE THE 5C VALUE FOR THE ENTIRE 1908-21 WASHINGTON-FRANKLIN SERIES. THIS STUNNING DISCOVERY RANKS AS ONE OF THE GREATEST FINDS OF A UNITED STATES EARLY 20TH CENTURY PHILATELIC ITEM.

Expertization: 2007 P.F. Certificate.

The United States 7c black 1912 Issue was not previously known to exist in public hands as an imperforate variety. Only the 1c through 5c were regularly issued in an imperforate format by the Post Office Department for purposes such as private vending coils. This amazing discovery lingered in a general U.S. collection for years until a collector decided to sell the collection. A potential buyer realized immediately what it was, and struck a deal with the seller to split ownership. For something to lie dormant for so long is quite miraculous since it is such an eye catching variety. Linn's Stamp News reported its discovery in a front page article on July 2, 2007, shortly after the Philatelic Foundation issued a genuine certificate as an imperforate block.


Realized $23,000
---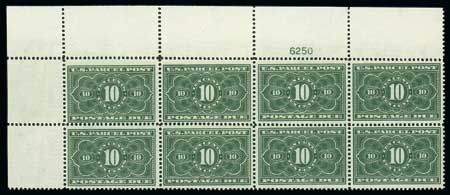 Lot 633


Parcel Post Postage Due, 1913, 10¢ dark green (JQ4), top left margin plate no. 6250 block of eight, outstanding centering, rich color, with strong and intact perforations, original gum, never hinged. Extremely Fine.

THERE ARE VERY FEW OF THE 10¢ PARCEL POST POSTAGE DUE IN EXISTENCE, THIS TOP PLATE BLOCK WITH ITS CHOICE CENTERING, INTACT PERFORATIONS AND POST OFFICE FRESH STATE IS SURELY A CANDIDATE FOR THE FINEST EXTANT.

Expertization: 2006 P.F. Certificate.


Unsold
---
Lot 377

(
)

1857, 1¢ blue, type Ia (19), position 92L4, well centered with perforations well clear of the design at top and sides and though in at bottom showing a portion of the right ball ornament, remarkably fresh with intense color and a strongly etched impression on bright paper, unused. Very Fine and handsome.
Scott $17,500

A CHOICE EXAMPLE OF THE RARE PERFORATED TYPE IA, A STAMP ON MOST UNUSED WANT LISTS.

Expertization: 1985 and 2007 P.S.E. Certificates.


Realized $25,300
---