Sale 325
Lot 2334


Airmail, 1918, 24¢ carmine rose & blue, center inverted (C3a), position 89, well centered, fresh rich colors, disturbed o.g., small thin spot and light crease at bottom left, none of which detracts in the slightest, choice. Very Fine appearance.
Scott $400,000

ONE OF THE BEST CENTERED AND MOST HANDSOME EXAMPLES OF THIS RENOWNED U.S. ERROR EXTANT.

Expertization: 1991 P.F. Certificate.

Provenance: Maffeo


Unsold
---
Lot 1872


1901, 2¢ Pan-American, center inverted (295a), centered to top, fresh pastel color, full o.g., LH, trace of a previous tiny inclusion, Fine.
Scott $45,000

ONLY ABOUT 150 UNUSED EXAMPLES OF THIS RARE INVERT EXIST AND MOST HAVE DISTURBED ORIGINAL GUM OR NO GUM. THIS IS ONE OF A SMALL NUMBER THAT HAVE RETAINED THEIR ORIGINAL GUM.

Expertization: 2007 P.F. Certificate.


Unsold
---
Lot 1668


1880 Special Printing, 30¢ greenish black (201), intense color and distinctive "soft" impression, without gum as issued, fresh and F-VF.
Scott $24,000

ONLY ABOUT 50 EXAMPLES OF THE 30¢ SPECIAL PRINTING ARE BELIEVED TO EXIST.

Expertization: 1943 A.P.S., 1973 and 2006 P.F. Certificates.


Realized $19,550
---
Lot 1793


1894, 50¢ orange (260), bottom imprint and plate no. 75 block of 6, quite nicely centered, bright rich color, some perf reinforcement in selvage, light natural gum wrinkle, full o.g., NH, Very Fine for this.
Scott $32,500

AN EXCEEDINGLY RARE PLATE BLOCK, ESPECIALLY IN THIS FRESH NEVER HINGED CONDITION.

Expertization: 2003 P.S.E. Certificate.


Realized $11,500
---
Lot 1873


1901, 2¢ Pan-American, center inverted (295a), good colors for this normally pale stamp, o.g., small thin and corner crease, otherwise fresh and Fine, a handsome example of this rare and popular error.
Scott $45,000

Expertization: 1979 P.F. Certificate.


Unsold
---
Lot 1899


1901, 8¢ Pan-American (298), complete bottom pane of 100, overall nicely centered, and appears to be intact, o.g., NH, one stamp (position 100) thinned, Fine to Very Fine, a rare complete pane.
Scott $39,000


Unsold
---
Lot 2161

BK


1917, 2¢ rose, type I (499f), nicely centered, with the rich powdery color of all the genuine panes, full fresh o.g., LH on several, Fine to Very Fine.
Scott $28,000

A FRESH AND HANDSOME EXAMPLE OF THIS BOOKLET PANE RARITY OF WHICH THERE ARE ONLY 20-25 SURVIVING INTACT.


Realized $18,400
---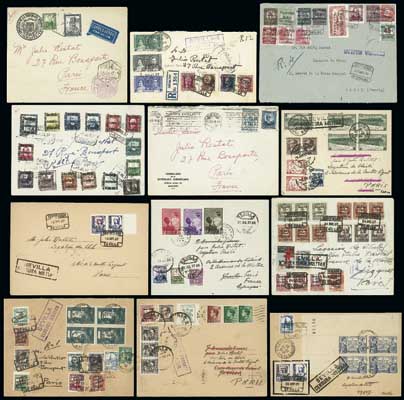 Lot 3305


Julio Restat Covers, 1936-1939, collection of 69 covers addressed to Julio Restat, an exiled Chilean priest who lived in Paris during the War. Restat had knowledgeable agents create covers with unusual Civil War locals and send them to him in Paris. Several covers actually originated outside of Spain (e.g. Belgium and France) and bear stamps of the country of origin, as well as Civil War locals for forwarding to Restat in Paris. Included is a copy of The Correspondence of Julio Restat (1936-1939, a well-researched 144-page hardbound book by Javier Negri of Argentina, detailing the life of Restat and illustrating, in color, 60 covers from the correspondence, 30 of which are included in this collection. Of the three known Restat collections in the world, this is believed to be the largest. It is replete with wonderful covers bearing exotic frankings and marks including a multitude of rare overprint varieties. A unique opportunity to acquire a potential award-winning collection of this little known Civil War specialty, the prices of which have climbed steadily since the publication of Negri's book in 2003.
Estimate 15,000 - 20,000

Also included are copies of the original correspondence between Javier Negri and Dennis Florence, whose mutual interest in Restat covers was discovered when both were bidding on the same cover in an online auction. The cover was ultimately won by Florence, who went on to acquire an additional 39 covers after the publication of Negri's book.


Unsold
---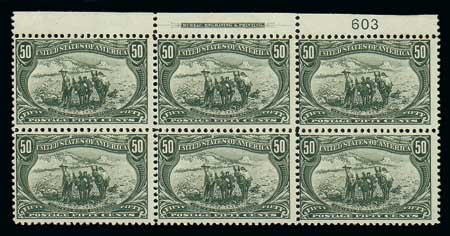 Lot 1856


1898, 50¢ Trans-Miss. (291), top plate and imprint block of six, deep rich color, crisp and intact perfs, original gum, never hinged except for top left and top right stamps, the top left stamp with a small vertical crease at top, Fine and rare.
Scott $26,000

Expertization: 1999 P.F. Certificate.


Unsold
---
Lot 2396


Special Delivery, 1894, 10¢ blue, unwatermarked (E4), full top margin imprint and plate number 77 block of six, exceptionally fresh with vibrant color, fully intact perforations and NH o.g., Fine.
Scott $25,000

A FRESH AND WELL PRESERVED EXAMPLE OF THIS RARE SPECIAL DELIVERY PLATE BLOCK.

Expertization: 2004 P.F. Certificate.


Unsold
---