Sale 343
Lot 3082


Abraham Lincoln, clear free frank "A. Lincoln" as President on cover also addressed in his hand to Major Gen. Sandford in New York, N.Y., "Washington D.C. Apr 21, 1863" double-circle datestamp, reverse with no flap and small paper loss at left, Very Fine.
Estimate $10,000 - 15,000

A CHOICE AND RARE ABRAHAM LINCOLN FREE FRANK AS PRESIDENT.

Expertization: signed by Gimelson in pencil.

This cover originally contained (no longer present) orders to Major Gen. Charles Sandford, Military Commander of New York City, to forward mail from a neutral country (England), taken in capture of a rebel packet boat.


Realized $13,800
---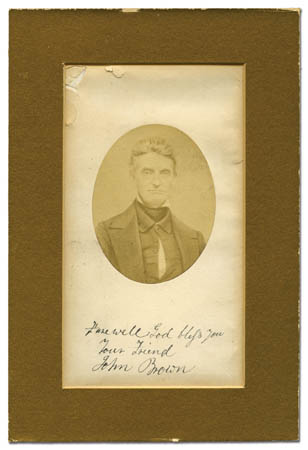 Lot 3022

John Brown Signed Photo, 1859, flyleaf from a personalized Bible, 4" x 6½", signed "Farewell God bless you, Your Friend, John Brown"; matted to 5½" x 8", chipped and cracked in the upper left corner and couple of small edge tears, otherwise Fine and exceedingly rare.
Estimate $7,500 - 10,000

ONE OF ONLY THREE SURVIVING EXAMPLES OF THE TEN SIGNED BY BROWN.

It is believed only two remain in private hands.

Brown was a radical abolitionist who was tried for treason against the Commonwealth of Virginia, the murder of five pro-slavery Southerners, and inciting a slave insurrection. Refusing to claim insanity as a defense, he was found guilty on all counts and sentenced to death by hanging. After his trial he ordered ten Bibles, each of which bore his photo on the flyleaf, and inscribed and signed each of them for close friends.


Unsold
---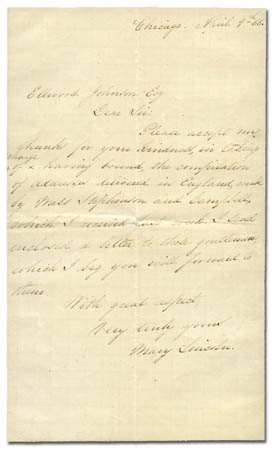 Lot 3273


Mary (Todd) Lincoln Letter on Mourning stationery, ALS, 5¼" x 8¼", Chicago, April 9, 1866, to Ellwood Johnson Esq. in Philadelphia thanking him for a bound compilation of Lincoln mourning "addresses delivered in England"; very minor splitting at fold junctions, Very Fine. See following lot for the free-franked cover that contained the letter.
Estimate $4,000 - 6,000

A CHOICE LETTER FROM WIDOW LINCOLN IN THE FIRST YEAR OF HER MOURNING.


Realized $3,738
---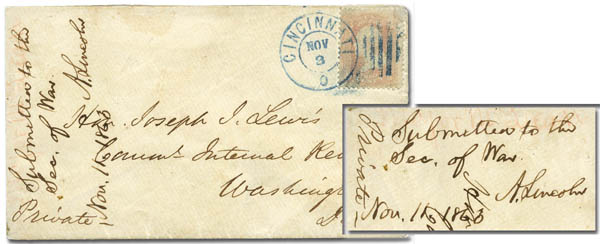 Lot 3196


Lincoln Endorsed Cover, from Cincinnati to Joseph I. Lewis, Commissioner Internal Revenue, the original letter (now in the National Archives) urged the appointment of Col. Freese of New Jersey to command a regiment of "Colored Troops". Lewis, a trusted Lincoln advisor, recommended the appointment and Lincoln agreed, endorsing the envelope "Submitted to the Sec. of War. A. Lincoln, Nov. 11, 1863". Cover franked with with 3¢ 1861 tied by blue Nov 3 Cincinnati duplex, Very Fine.
Estimate $4,000 - 5,000

A FINE LINCOLN SIGNED ENDORSEMENT.


Realized $9,200
---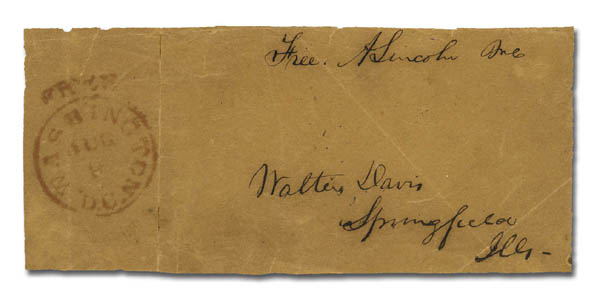 Lot 3039

(
)

"Free, A Lincoln, MC" (Milgram M-1), free frank as congressman on circa 1848 reduced cover front bearing red "Washington D.C., Jul 8, Free" c.d.s. and addressed to Walter Davis in Springfield, Ill.; mounted on backing paper, light creases, Fine and rare.
Estimate $3,000 - 4,000

AN EXCEEDINGLY RARE LINCOLN FREE FRANK AS A CONGRESSMAN; ONE OF ONLY THREE RECORDED LINCOLN CONGRESSIONAL FREE FRANKS, THIS BEING ONE OF TWO IN PRIVATE HANDS.

Lincoln was Member of Congress from Illinois for only one term from 1847 to 1849. His Congressional free frank is far rarer than his presidential frank, we have known of only three or four in private hands.

Lincoln was writing to Walter Davis, a Springfield mechanic, concerning the land and pension rights of his brother Lt. Thomas Davis, a casualty of the Mexican-American War.

Illustrated in Milgram's Lincoln book on page 231.


Realized $4,888
---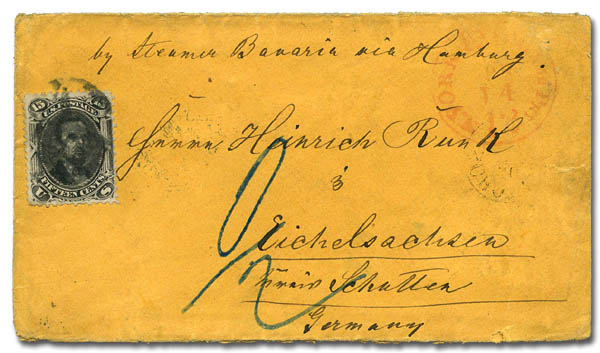 Lot 3281


1866, 15¢ black (77), tied by NYFM four-pointed star in circle (Skinner) on orange buff cover to Germany, red "N. York Hamb. Pkt. 'Paid 12' Apr 14" exchange c.d.s., blue "0/2" pen rating, reverse with bold "Hamburgh 29/4 66" transit oval in blue along with Butzbach (4.30) and Schotten (4.30) arrivals; light soiling, Very Fine.
Estimate $3,000 - 4,000

THIS IS THE EARLIEST RECORDED USE OF THE 15¢ 1866 LINCOLN MEMORIAL ISSUE.

Expertization: 1981 P.F. Certificate.

Provenance: Fisher

This cover is used exactly one year after the assassination by John Wilkes Booth. This cover was also examined by the APS expertizing committee and received a conflicting opinion. We feel the Philatelic Foundation was correct in their opinion and this cover is genuine in all respects.


Realized $3,450
---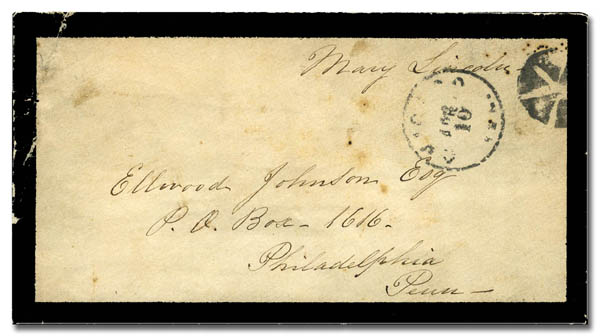 Lot 3274


Mary (Todd) Lincoln Free-Franked Mourning cover, addressed to Ellwood Johnson Esq. in Philadelphia (see preceding lot), postmarked with an April 10 (1866) Chicago duplex cancel (very slightly obscuring the signature); bit of creasing in upper left corner, light toning; Fine.
Estimate $3,000 - 4,000

FINE WIDOW FREE FRANK ON A RARE MOURNING COVER.


Realized $2,530
---
Lot 3080


Breckinridge three-quarter portrait surrounded by flags and shield, Breckinridge quote at upper right and Raynor imprint, on yellow cover bearing 5¢ Bright Green, Stone 1 (1), margins to bit in, tied by "Wilmington N.C. Jan 21" c.d.s. and addressed to Harrington's Mills, N.C.; reduced slightly at right and trivial ms. docketing, Fine.
Estimate $2,000 - 3,000

A VERY RARE CONFEDERATE USE OF THE BRECKENRIDGE & LANE CAMPAIGN COVER.

John C. Breckenridge, a state's rights candidate, opposed Lincoln in the 1860 campaign. He later became a Confederate cabinet member.


Realized $1,955
---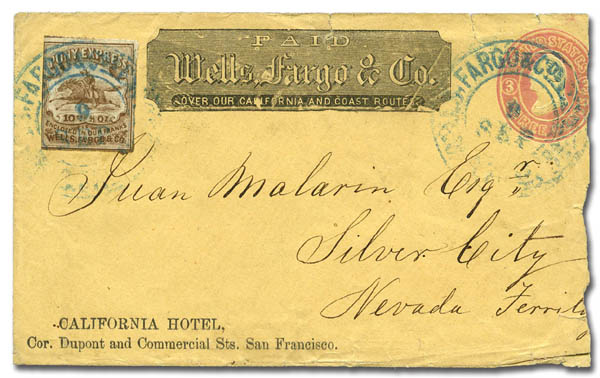 Lot 3121


Wells Fargo & Co., 1862-64, 10¢ brown (143L7), three margins, touched at left, tied by "Wells, Fargo & Co., San Francisco, Sep. 9" blue double circle handstamp (Leutzinger type 11-4) struck twice on 1861 3¢ pink entire with black Wells Fargo frank and "California Hotel" printed corner card to Silver City, Nevada Territory, reverse with 1862 docketing; couple small edge tears and roughly opened at right, Fine.
Estimate $2,000 - 3,000

A SCARCE EAST BOUND VIRGINIA CITY PONY EXPRESS USAGE.


Realized $1,840
---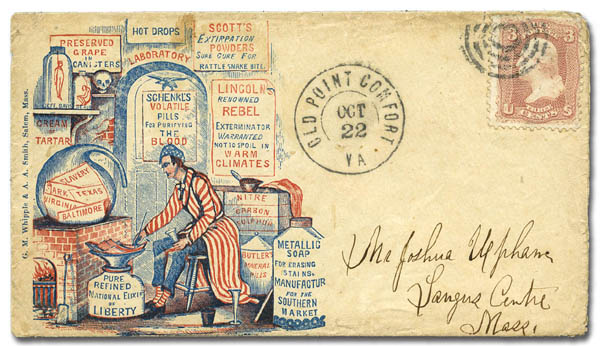 Lot 3144


"Lincoln's Renowned Rebel Exterminator" (Milgram AL-301), red, white and blue patriotic cartoon design, "G. M. Whipple & A. A. Smith, Salem, Mass." imprint at left, bearing 3¢ rose (65) tied by four-rings cancel and addressed to Saugus Centre, Mass., matching "Old Point Comfort Va. Oct 22" d.c.d.s.; some edge wear and small stain, Very Fine.
Estimate $2,000 - 3,000

EXTREMELY RARE AND ONE OF THE MOST ELABORATE ABRAHAM LINCOLN PATRIOTIC DESIGNS.

This design depicts Lincoln in star cap and striped robe as an apothecary preparing a wide variety of anti-Confederate concoctions, jars at upper left contain a hanging Jefferson Davis and General Beauregard.


Realized $2,760
---